Medium: Television
Fandom:
Gossip Girl
Subject: Blair/ChuckTitle:
Fade Watching You : A Blair and Chuck Fanmix
Warnings:
None.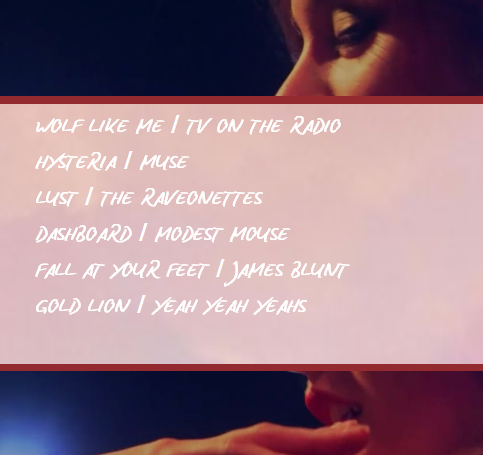 1. Wolf Like Me- TV On The Radio
Say say my playmate
wont you lay hands on me
mirror my malady
transfer my tragedy


'cause I want it now
I want it now
Give me your heart and your soul
And I'm breaking out
I'm breaking out
Last chance to lose control
I fell out of heaven
to be with you in hell
my sin's not quite seven
nothing much to tell
lust i haven´t craved
a sainted boy im not
i`ll take it to my grave
a side cursed on rot
Well we scheme and we scheme but we always blow it
we've yet to crash, but we can might as well tow it
Standing at a light switch to each east and west horizon,
Every dawn you're surprising,
And the evening was consoling
Saying "See it wasn't quite as bad as"
Well, it would've been, could've been worse than you would ever know.
5. Fall At Your Feet- James (could not find this)
You're hiding from me now
There's something in the way that you're talking
Words don't sound right
But I hear them all moving inside you
Go now